By Algis J. Laukaitis
Lincoln, NE (May 20, 2012)- For some people, planting and growing trees is tedious work. Lorenzo Towns, 26, doesn't feel that way. An inmate at the Community Corrections Center, Towns was glad to help plant 32 apple and five pear trees Friday on a tract of ground that with hard work will grow into a fruit orchard.

Towns, who has served two years of a four- to eight-year sentence for burglary, knows he probably won't be around to eat the golden delicious and other apple varieties when the trees begin to bear fruit in four or five years. That doesn't bother him. He's more interested in learning some new skills.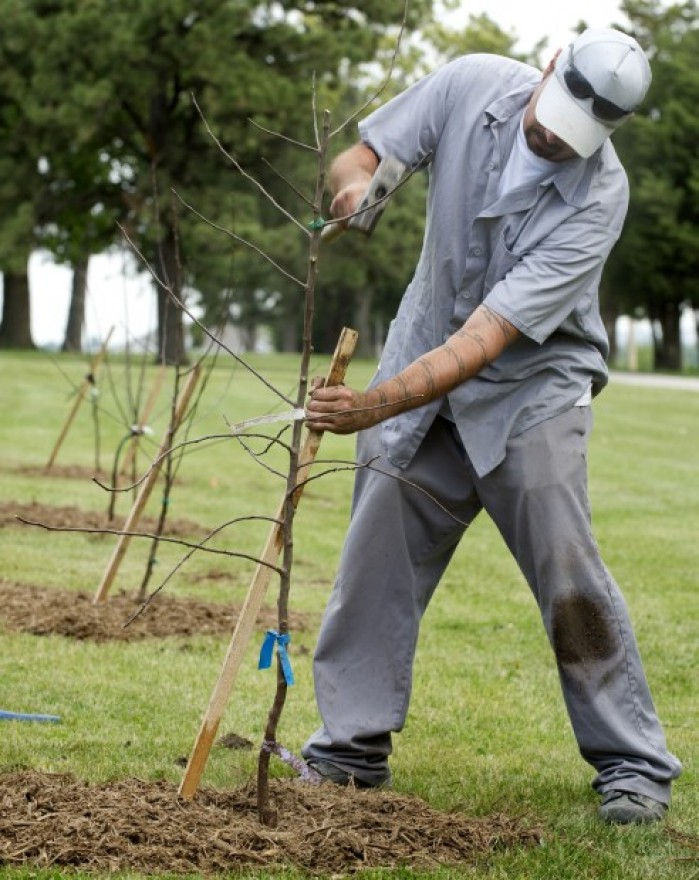 "It will give me something to put on my application and help me get a job," Towns said.
Teaching inmates the ins and outs of the nursery business is one of the goals of the program, said Kendall Weyers, sustainable communities coordinator with the Nebraska Forest Service. "I'm pretty sure they enjoy getting out here. It's a pretty nice site, actually."
The Nebraska Department of Correctional Services and the Forest Service have formed a partnership to start the orchard. Staff from both, with the help of inmates, planted 37 fruit trees Friday and will plant 20 nut trees this fall. The orchard is near the Community Corrections Center-Lincoln, a work-release facility on the 80-acre Lincoln Correctional Center campus in southwest Lincoln. LCC staff will supervise and maintain the orchard with the help of inmates from the Community Corrections Center.
On Friday, inmates Jeffrey Hynek, Tanner Richter and James McDermott helped Towns plant. LCC Warden Mario Peart praised the partnership, saying it gives prisoners vocational training and keeps them busy. Eventually, he said, inmates will be able to enjoy locally grown fruits and nuts.
"It's a cost savings for us," Peart said. "Prices for food are always going up. Anything we can do to reduce the food budget is a big step." The men also will gain a sense of pride, he said. "To us, it seems a simple project, but to them, it's a big accomplishment," Peart said.
Corrections Director Robert Houston said the department spent $5.3 million last year to feed 4,500 inmates at 10 prisons. He estimated the orchard could save the department about $20,000 annually.
Each fruit tree should produce about 20 bushels of fruit, said Vaughn Hammond, an Extension educator at the University of Nebraska-Lincoln who is consulting on the project. "It's very heartening for me to see this happening," Hammond said. "It's awesome to see that they are producing their own food."
The orchard will complement the 14-acre vegetable garden at the prison. Last year, prisoners grew more than 30,000 pounds of potatoes, 3,000 pounds of tomatoes and peppers, respectively, said LCC Maintenance Manager Andrew Mook, who credited detail Cpl. John Filbert for coming up with the orchard idea.
Peart said the vegetable garden saved the department $25,000 to $30,000 last year.
The tree-planting project was made possible through a $5,000 matching grant from the Alliance for Community Trees and its Peoples Garden Grant Program. The Forest Service and LCC will donate labor and other in-kind services. Additional partners are the Nebraska Statewide Arboretum and UNL.
The Corrections Department is considering growing fruit trees at its other prisons, including the Nebraska State Penitentiary and the Tecumseh State Correctional Institution, Peart said. "It's a wise use of state land instead of letting it sit idle."
Related Resources:
Lincoln Journal Star- Orchard could bear fruit for prisoners and prison system
ReTree Nebraska
ACTrees People's Garden Grants Program